Overnight at Camp Gysinge
 
Book a pitch, a rustic and cozy wilderness cabin or our large, cozy overnight cabins with luxurious tent beds and wood-burning stoves.
Several cozy accommodation options
At Camp Gysinge we offer several cozy and wilderness-inspired accommodation options. With everything from pitches, living in cozy furnished tent cabins equipped with wood-burning stoves and really luxurious and wide tent beds! Then we also have a rustic raft hut for the small group who want cozy evenings around the central open fireplace with various party games, cooking activities over the fire and maybe a nice sauna...

When you stay at camp Gysinge, you share a toilet with others in the area at our service house. Here you can also throw away rubbish or fill up with water.
The location of the accommodation itself varies depending on the type of accommodation you want. Below we present our pitches and in the poufs further down you can read more about our rustic wilderness cabin as well as overnight stays in our cozy tent cabins etc.

Pitches
We have a small but nicely located area for motorhomes and caravans.
 
- 5 pitches with electricity that cost SEK 180/pitch and night.
- 2 pitches without electricity which cost SEK 150/pit and night.
All pitches can be pre-booked where any bookings are manually filled in by us on the respective date list for each individual pitch.

Find here
Granövägen 15 Gysinge.
 
Pre-booking
Done via email to info@aventyrsservice.se You specify which places and which nights are desired as well as name, mobile number and Reg number for each respective booked place. Payment is made in connection with pre-booking to Swish number: 1230400085 enter your registration number, pitch number and date of payment.

Drop in booking
You look for a free place and check that the current dates are not too crossed on the pre-booking slip for the current pitch. If it is free, just park and upon arrival pay via swish to 1230400085, enter the registration number and current dates you intend to stay.

Times & arrival
Check-in at an available place may be done before 2 p.m. if you have ensured that the place is free.
Check-out no later than 2 pm on the day of departure.
There is no reception, instead you drive directly into the parking lot area and park in your reserved number or in an available space. In direct connection with this, the Swish payment is also made.

Cancel or rebook
For cancellation or rebooking, email us no later than 24 hours before your booked arrival to get the money back. enter full name, registration number and current date. email info@aventyrsservice.se

Later cancellations than 24 hours before arrival time no refund.
If for any reason other than illness, accident or other agreement with ÄS you choose to leave your pitch, the pitch will not be refunded.

Personal data
The phone number you enter in the booking is only used if we need to get in touch with you in connection with your visit.

Order rules
Camp Gysinge consists of various event areas and is a unique area where many different customer groups meet and that there are continuously different types of events that take place, everything from stag and hen parties to corporate events and other festivities. Many different types of activities are also conducted in the area. All parties in the area, regardless of whether you have rented a pitch or a larger event at one of the venues, must be aware that they need to show consideration and customs and adjust, for example, volume and behavior according to common sense and the time of day. But there are absolutely no guarantees that the area is quiet at night, so it's a risk you have to take if you choose to camp at Camp Gysinge's Ställplats. If you have questions about a possible increased risk of disruption, please ask our booking. But it also has its advantages, both in the form of a wide range of options for bookable options or a nice swim from one of our stepped piers. The morning and the evening cup of coffee can also be enjoyed from the banks of the river, so find a cozy spot and enjoy!

Show consideration and be tolerant of others staying in the area. Disruptive guests may be evicted immediately without compensation.

For questions and concerns, contact our booking department:
Mail to the book owner: info@aventyrsservice.se
Mobile number for booking: 070-591 50 01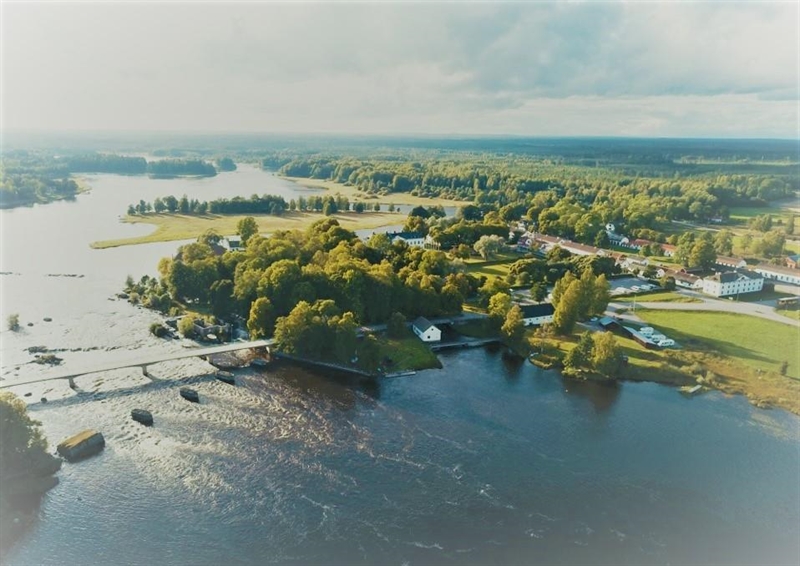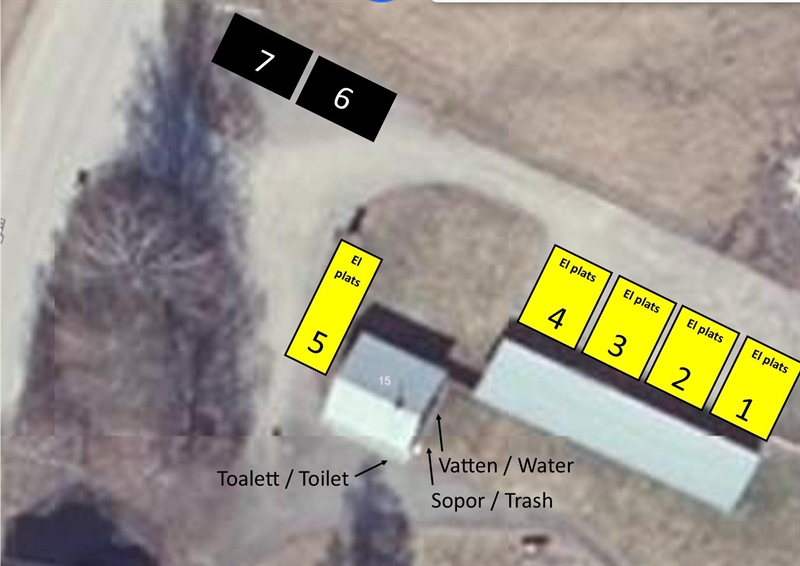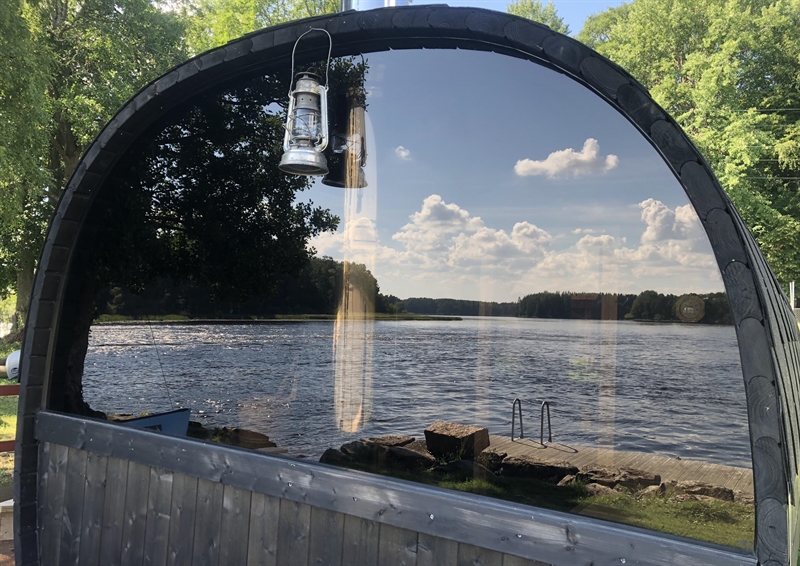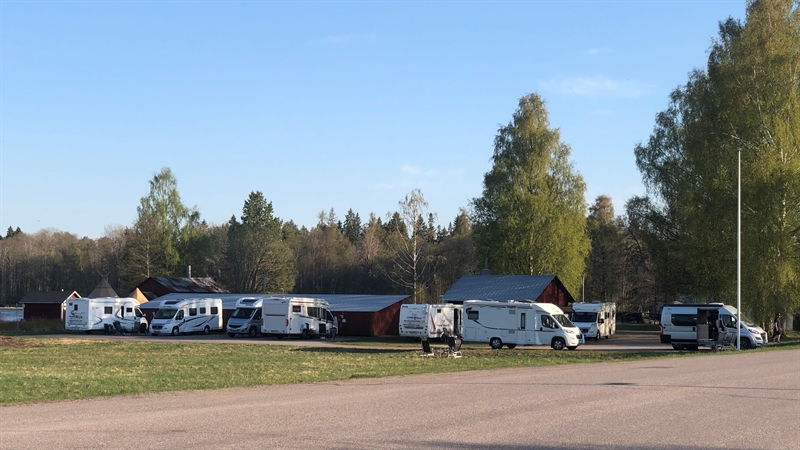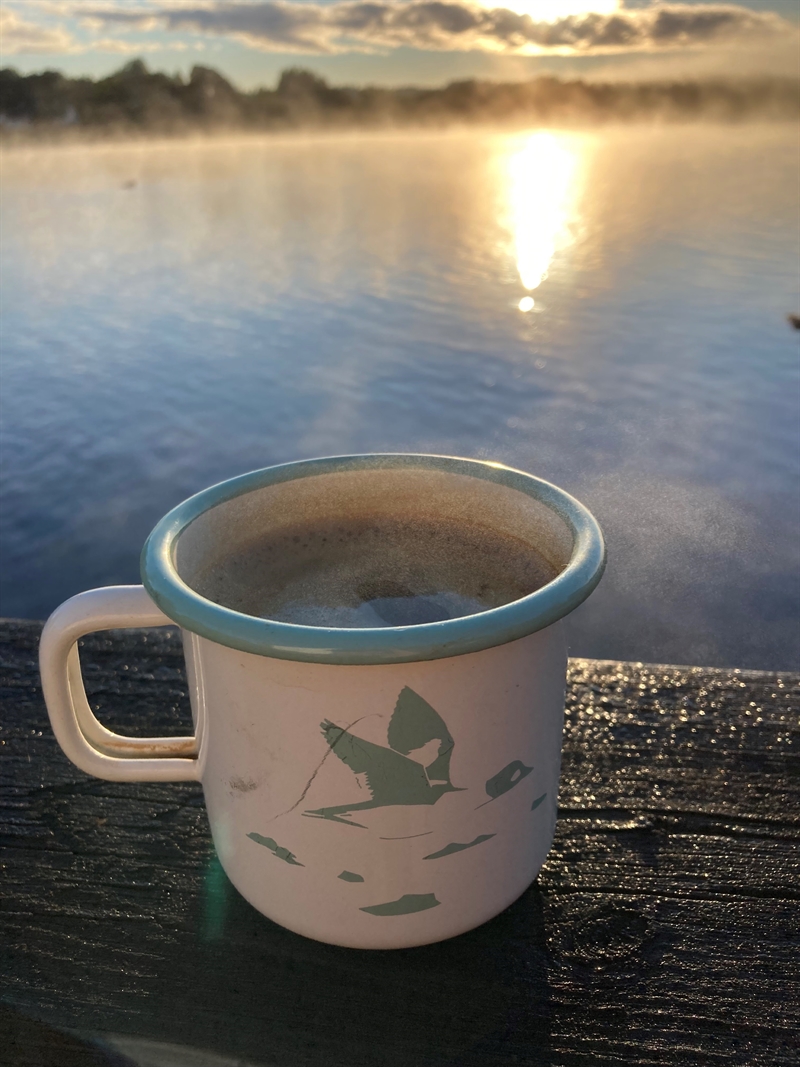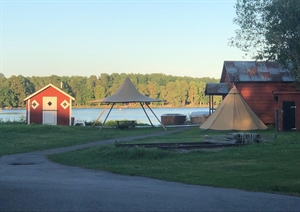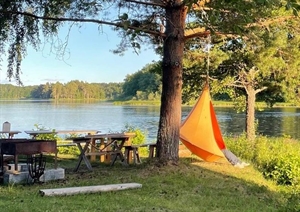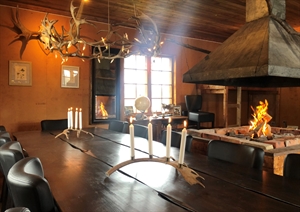 The cabin goes by the name of the floating cabin and consists of a larger room with a centrally located open fire with hood and chimney. The fireplace is large and spacious and invites you to great opportunities to cook food over embers and an open fire. A relatively wide range of adapted cooking equipment is included, see specification on the link. The cabin currently has two rather narrow bunk beds with a total of four beds. Then you can book 1-2 luxurious and wide tent beds.

If there are more than six of you who want to spend the night, the raft cabin is at Camp Nord and here we also have an overnight cabin with tent beds and a cozy wood-burning stove. As well as the possibility of more bookable options such as a wilderness bath or a sauna to fire yourself... See more info and offers on the link.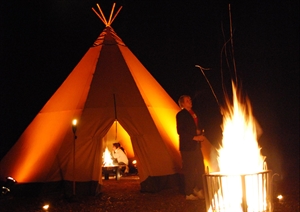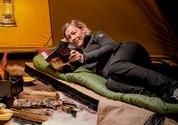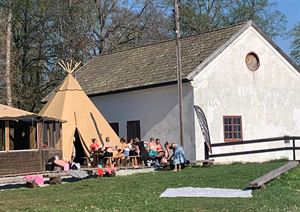 Overnight cabin Luxury with wood-burning stove and comfortable tent beds.
Both at Camp Syd and at Camp Nord we have a larger overnight cabin that can be booked as an option.

The kåts are slightly differently equipped and adapted to their venue.

Camp North
Here, the cabin is equipped with 8 beds in luxurious and comfortable tent beds that can also be adjusted to sit. The tent also has:
-Wood-burning stove
- fire extinguisher and fire blanket.
- wooden floor throughout the tent
-Cozy ambient lighting
-Small rustic bedside tables
- decorative carpets on the floor.
Price: SEK 595/person and night.

Camp South
This cabin is slightly larger and is equipped as follows:
- Wooden floor throughout the tent.
-wood-burning stove
- fire extinguisher and fire blanket
-Cozy ambient lighting
-Small rustic bedside tables
- decorative carpets on the floor.
Price SEK 595/person and night.

Larger groups at Camp Syd  
When the regular overnight cabin is not enough for the whole party, we supplement with our adventure cabins from Tentipi.

These tents are adapted for group overnight stays and are equipped as follows:
-Appropriately sized tent poles/tent poles
- Associated tent floor
-Complete sleeping mat throughout the tent.
-Wood-burning stove
Assembly and disassembly are included in the price. SEK 595/person and night.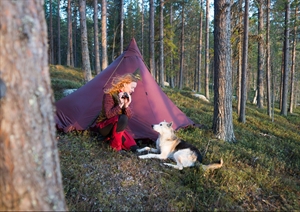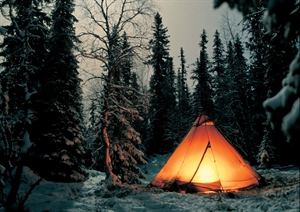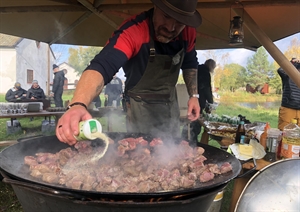 Rent tent packages, camps and outdoor equipment from us for your own expedition in Färnebofjärdens National Park or another excursion destination.
Click on the link to our rental page and select categories of equipment there.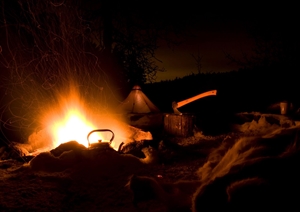 Access and rental conditions
premises and tents.
Access and rental conditions
premises and tents.
Access to the premises takes place no earlier than 14:00 on the first rental day. The premises must be cleaned, washed and vacated by 11 a.m. the following day at the latest.

Rental conditions:
- Booker's age limit 20 years (mandatory legal check)
-The lessee is liable for damages in the event of damage to the premises/equipment via own damage insurance or equity if insurance is missing.
-The premises may only be rented for own purposes (not for commercial/other use). This means that we do not give other companies permission to sell e.g. alcohol or other refreshments in ÄS premises unless established agreements have been signed with Äventyrsservice. All commercial activities in our premises must be sold and carried out via Äventyrsservice.
- The rental period includes the time the customer has access to the premises.
-During the rental period, the customer has full responsibility for the premises and parts covered by the basic package as well as any optional extras.
-Smoking forbidden.
-The premises and its accessories must be left in the same cleaned and washed condition as on arrival.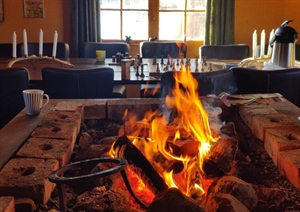 Cleaning must be booked in advance
Cleaning must be booked in advance
You take care of cleaning yourself unless this is pre-ordered well in advance.

The following points must be implemented:
-All personal equipment is removed
-Garbage may be left in sorted garbage bags (All garbage that is not sorted is charged for sorting time, which is charged the same as the cleaning fee. (deposit/glass/paper/combustible/compost)
-Tables, bar & fridge must be dried
-The floor is vacuumed/swept (spills are wiped away immediately so that the dirt does not penetrate the floor or table tops)
- the kitchen equipment must be cleaned/washed, the water container must be emptied)
-All damaged/lost equipment will be charged extra.

Cleaning can be pre-booked for a starting cost of SEK 800 for the first hour + SEK 650/next started hour...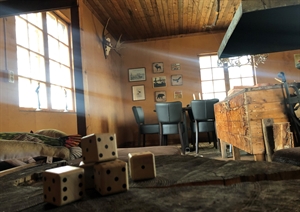 Added to the prices
Used number of sacks of firewood is added as a cost of SEK 150/sack.